National Stroke Awareness Month
Saturday, May 13, 8 a.m.
McAllister Park – Pavilion #1 (Al Becken)
13102 Jones Maltsberger Rd., San Antonio
Featuring: Neurologist Dr. Adam Blanchette; Interventional Radiologist Dr. Walter Zink and Dr. Jorge Alvarez
On behalf of Cardiology Clinic of San Antonio, Bexar County Medical Society and Texas Medical Association, we invite you to join us for Walk with a Doc!
It's a free, monthly event for families that includes a short presentation on reducing risk factors and a healthy lifestyle, an exhilarating walk and an opportunity to ask your favorite doctors questions about your health.
We'll have special guests each month and a variety of demonstrations and discussions about health and wellness.
This month we'll learn how to reduce your stroke risk and how to recognize the signs and symptoms of stroke to prevent death and disability.
No registration required. Dress for the weather and lace up your tennies!
Be sure to follow us:
Facebook https://www.facebook.com/CardiologyClinic/
Walk with a Doc http://walkwithadoc.org/our-locations/san-antonio-texas/
Methodist Healthcare Calendar https://sahealth.secure.ehc.com/calendar/
for upcoming walks and locations!
Walk with TIPSSW
<![if !vml]>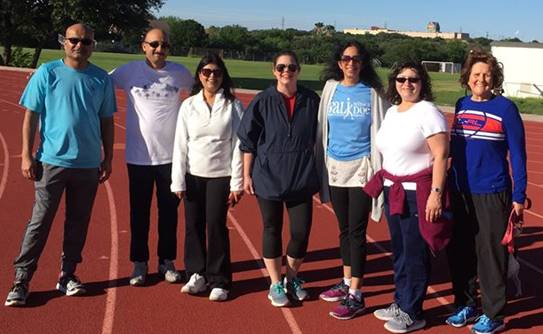 <![endif]>
On a glorious Sunday morning ( April 23) about 20 of us walked the talk at Tom C. Clark High School. Special thanks to Dr. Leah Jacobson, President BCMS, for joining us! We were happy to welcome two new wonderful lady walkers and their dog Lily ( she is camera shy from town! Thanks to our cardiologist Dr. Kiran Cheruku on call and at hand to answer their questions. Next Walk is scheduled for May 21.
– Dr. Aruna Venkatesh