BCMS physician, Alliance and medical student members advocate on medicine's issues during April First Tuesdays
By Mary E. Nava, MBA, BCMS Chief Government Affairs Officer
With 50 days left in the 85th Legislative Session, BCMS members are working tirelessly on behalf of medicine to walk the halls of the Capitol during First Tuesdays, testify in committees, drop cards in support or against bills and make contact with legislators' offices via email and phone calls. Special thanks go out to the following physician and Alliance members who attended the April 4 First Tuesdays visits last week:
Physicians: Leah Jacobson, MD, BCMS President; Dan Deane, MD; John Edwards, MD; Pam Hall, MD; David Henkes, MD; James Humphreys, MD; Alex Kenton, MD; Jesse Moss Jr., MD; John Nava, MD; Jayesh Shah, MD and Ryan Van Ramshorst, MD.
Alliance members: James Duerr; Danielle Henkes and Jennifer Lewis.
In addition, over 140 students and residents participated in the April First Tuesdays, of which about a dozen were from San Antonio.
Among the topics discussed with legislators and their staff were: State budget; Medicaid; public health; GME; surprise billing; expanded mediation; health plan network directories; medication step therapy; parents' right to know about vaccine exemptions; mental health and substance abuse; raise tobacco use age to 21; telemedicine; maintenance of certification, virtual credit cards and scope of practice.
For local discussion on these and other legislative advocacy topics, consider joining the BCMS Legislative and Socioeconomics Committee by contacting Mary Nava, BCMS Chief Government Affairs officer and lobbyist by email at mary.nava@bcms.org.
<![if !vml]>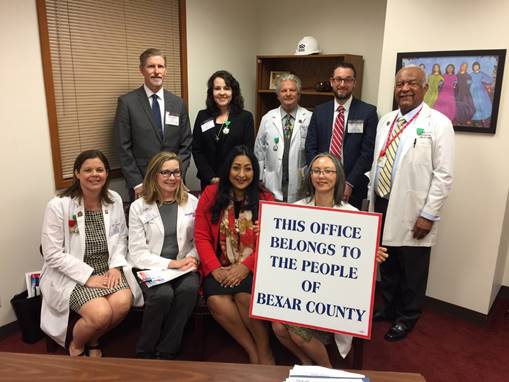 <![endif]>
BCMS physician and Alliance members and staff pause for a photo with Rep. Diana Arevalo (House District 116) during the April 4 First Tuesdays visit to the Capitol. Standing l-r, back row: James Duerr; Mary Nava; Dan Deane, MD; Ryan Van Ramshorst, MD and Jesse Moss, Jr., MD. Front row (l-r): Leah Jacobson, MD; Pam Hall, MD; Arevalo and Huyen Nguyen, MD.
<![if !vml]>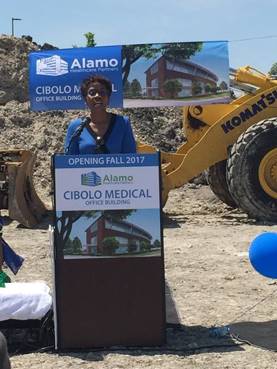 <![endif]>
Alamo Healthcare Partners LLC celebrated the groundbreaking for its new pediatric care clinic in Cibolo on April 4.
The 44,000 square foot facility will be located at 813 N. Main St. and is scheduled to be completed by November 2017.
Dr. Dianna Burns-Banks, the 2006 President of Bexar County Medical Society, is the managing partner of Alamo Healthcare and talked about the firm's history and vision during the ceremony.
<![if !vml]>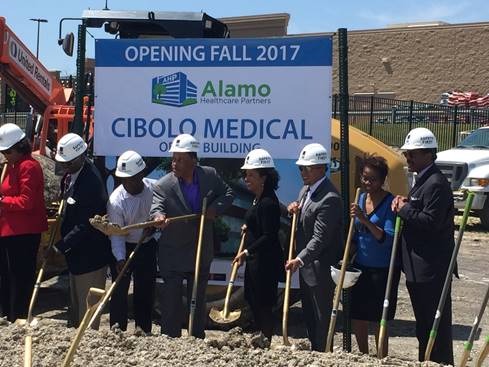 <![endif]>
Ready to take your leadership journey to the next level?
Become a TMALC scholar!
Applications are due June 1, 2017.
Are you called to lead, but worry you aren't a natural-born leader? Don't worry. You're not alone: Top leaders of America's most successful health care organizations will tell you leadership is bred, not born. Most leaders have developed their abilities by taking advantage of their top innate talents, and seeking out and learning the skills they need. The Texas Medical Association is here to guide you on your journey to great leadership.
TMA established the TMA Leadership College (TMALC) in 2010 to help ensure strong and sustainable physician leadership within organized medicine. TMALC graduates serve as thought leaders who can close the divide among clinicians and health care policymakers, and as trusted leaders within their local communities.
With more than 40 hours of classroom instruction, the TMA Leadership College was designed for active TMA members under the age of 40 or who are in the first eight years of practice.
Are you ready to take the next step?
Click here for more information.
<![if !vml]>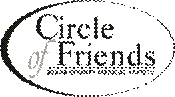 <![endif]>
Thank you to our BCMS Circle of Friends sponsors!
This information is sent on behalf of our sponsors but it is not an endorsement.
Donations from Circle of Friends sponsors help keep down the cost of dues and allow
BCMS to continue to provide quality service to its members.
The society continues its pledge to you and only will involve itself in
services and programs that benefit you, the member, and your patients.
About The Weekly Dose
The Weekly Dose is a service of the Bexar County Medical Society.
Some of the suggestions conveyed may not be applicable to your practice today,
but the goal is to offer information over time that returns value
in excess of the cost of your membership.
If you would like to recommend future topics to share with your colleagues,
please submit them to the BCMS Executive Director at steve.fitzer@bcms.org.
All rights reserved. Unauthorized use prohibited.
Copyright © 2017 Bexar County Medical Society, San Antonio, Texas.
All rights reserved.