<![if !vml]>

<![endif]>
BCMS members visit with Councilwoman Ana Sandoval of City Council District 7 on Sept. 27 during a joint meeting of the BCMS Legislative/Socioeconomics and Public Health/Patient Advocacy Committees.
BCMS members visit with Rep. Diana Arevalo and Councilwoman Ana Sandoval on Sept 27
In a joint meeting of the BCMS Legislative/Socioeconomics Committee and Public Health & Patient Advocacy Committee, physician members met and discussed healthcare issues of importance to medicine with Rep. Diana Arevalo (House District 116) and Councilwoman Ana Sandoval (City Council District 7), respectively. Committee members first visited with Rep. Arevalo regarding state legislative items, in particular, those items heard in the House Public Health Committee, of which Rep. Arevalo is a member. A number of state items were discussed, including: scope, vaccinations, Tobacco 21, among others. On the local front, members heard from Councilwoman Sandoval, who is Chair of the Council's newly formed Community Health and Equity Committee. Topics of importance discussed on the local front, include: Tobacco 21, air quality, commute solutions for employers, asthma, obesity, sugary drinks and prevention of chronic disease. Both Rep. Arevalo and Councilwoman Sandoval expressed interest in working with BCMS and physician members to continue discussions on these topics in preparation for interim legislative charges at the state level and establishing a formal committee of experts on community health at the local level.
Stay tuned to this column as meetings continue in the coming months with our state and city council elected officials.
For local discussion on these and other public health and legislative advocacy topics, consider joining the BCMS Legislative and Socioeconomics Committee by contacting Mary Nava, BCMS chief government affairs officer and lobbyist at mary.nava@bcms.org. To join the BCMS Public Health & Patient Advocacy Committee, contact Mike Thomas, director of communications at mike.thomas@bcms.org.
Golden Aesculapius Award
In 1980, the Bexar County Medical Society established the Aesculapius Award as our highest honor recognizing a lifetime of distinguished service by a BCMS member to our patients and our profession. This award is not given annually but only upon the occasion of nomination and confirmation of distinguished service.
Distinguished Service Award
At the January 13, 2009, meeting of the BCMS Past Presidents Advisory Council, the BCMS Distinguished Service Award was established. The first recipient of the BCMS Distinguished Service Award was William H. "Bill" Hinchey, MD. Award presented at the Installation of Officers.
<![if !vml]>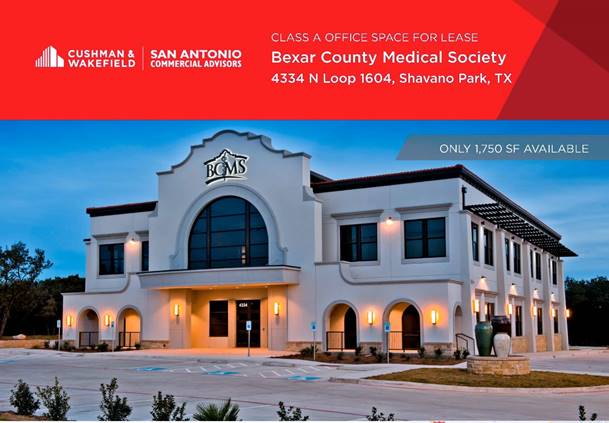 <![endif]>
One professional office suite available on the first floor with 1,749 square feet of rentable space.
The property has an above standard parking ratio of 5.5 spaces per 1,000 SF and Class A common area finishes.
Bexar County Medical Society occupies the entire second floor and member physicians are regular visitors to the building for society meetings.
For more information call
Jon Wiegand at 210-585-4911
Thank you to our BCMS Circle of Friends sponsors!
This information is sent on behalf of our sponsors but it is not an endorsement.
Donations from Circle of Friends sponsors help keep down the cost of dues and allow
BCMS to continue to provide quality service to its members.
The society continues its pledge to you and only will involve itself in
services and programs that benefit you, the member, and your patients.
About The Weekly Dose
The Weekly Dose is a service of the Bexar County Medical Society.
Some of the suggestions conveyed may not be applicable to your practice today,
but the goal is to offer information over time that returns value
in excess of the cost of your membership.
If you would like to recommend future topics to share with your colleagues,
please submit them to the BCMS Executive Director at steve.fitzer@bcms.org.
All rights reserved. Unauthorized use prohibited.
Copyright © 2017 Bexar County Medical Society, San Antonio, Texas.
All rights reserved.