BCMS holds General Membership Meeting and Legislative Forum
Last Thursday, Oct. 12, BCMS held its Fall General Membership meeting at the UT Health San Antonio Holly Auditorium, which included a Legislative Update CME presentation by TMA President, Carlos Cardenas, MD. Under the direction of Alex Kenton, MD, chair of the BCMS Legislative and Socioeconomics Committee and Mary Nava, BCMS chief government affairs officer, new to this event was the addition of a Legislative Forum, which included a panel discussion with some of our members in the Texas Legislature. All state senators and representatives from Bexar County were invited to attend. Many thanks to our legislators and their staffs for taking time out of their busy schedules to join us. Participants in the panel, included:
Senate District 25 - Krista Heiden, legislative director, representing the office of Senator Donna Campbell
Senate District 26 - Senator Jose Menendez
House District 116 - Representative Diana Arevalo
House District 117 - Representative Philip Cortez
House District 118 - Representative Tomas Uresti
House District 120 - Representative Barbara Gervin-Hawkins
House District 124 - Representative Ina Minjarez
Legislative staff members in attendance, included:
Bryant Villa, director of constituent services, office of Sen. Carlos Uresti
Cynthia Cabral, communications director, office of Sen. Menendez
Marc Hoskins, chief of staff, office of Rep. Arevalo
Clarissa Rodriguez, chief of staff office of Rep. Cortez
Biridiana Navarro, district director, office of Rep. Uresti
J.D. Pedraza, chief of staff, office of Rep. Gervin-Hawkins
Naomi Miller, district director, office of House Speaker Joe Straus
Lynlie Wallace, chief of staff, office of Rep. Lyle Larson.
<![if !vml]>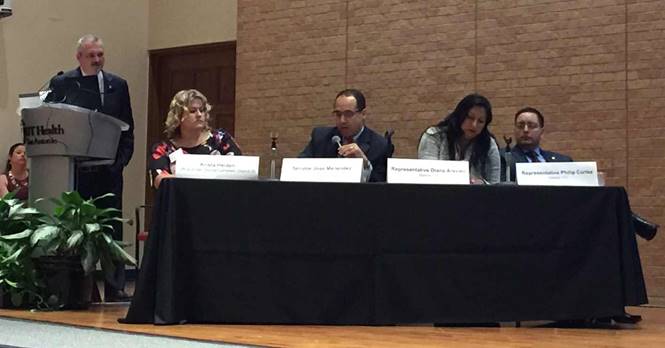 <![endif]>
On Oct. 12, TMA President, Carlos Cardenas, MD, at the podium, along with members of our state legislature, (seated l-r): Krista Heiden, legislative director in the office of Sen. Donna Campbell (Dist 25) ; Sen. Jose Menendez (Dist 26); Rep. Diana Arevalo (Dist 116) and Rep. Philip Cortez (Dist 117), discuss legislative topics updates from the 85th Legislative Session during the BCMS Fall General Membership Meeting.
For local discussion on these and other legislative advocacy topics, consider joining the BCMS Legislative and Socioeconomics Committee by contacting Mary Nava at mary.nava@bcms.org.
Friends of the P.I. Nixon Historical Medical Library Dinner
The 47th Annual Friends Dinner will be held on Wednesday, November 1, 2017. This year's presentation titled, "Believing in Race: Its Legacy in Our Nation's Health", will feature a presentation about the history of races and the impact on health by Dr. Jill Fleuriet, Associate Professor of Anthropology and Associate Dean of the Honors College at the University of Texas at San Antonio. Dr. Fleuriet is a cultural and medical anthropologist who specializes in the qualitative analysis of health and health care inequalities.
Dinner Details:
When
Wednesday, November 1, 2017
Cash bar 6:30 PM; Dinner 7:00 PM
Where
Old San Francisco Steak House
10223 Sahara Street (off San Pedro north of Loop 410)
Cost
$55 per person
$35 for students: *Students are encouraged to apply for sponsorships to cover the cost of registration and membership.
All are welcome to attend!
Please note that this year we are offering online registration for the dinner. See the attached newsletter for more information.
Online dinner reservation form: https://goo.gl/forms/T1GOLjrLa0QQVSzn2
Please RSVP for the dinner by Friday October 20, 2017.
<![if !vml]>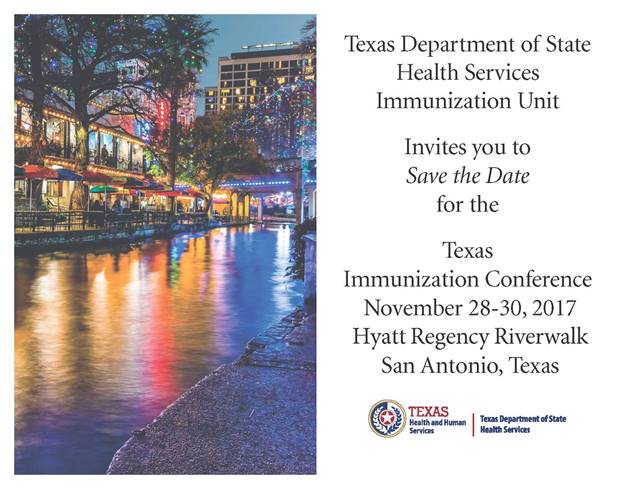 <![endif]>
The Texas Department of State Health Services (DSHS) is excited to announce the 2017 Texas Immunization Conference which will be held on November 28 – 30, 2017 at the San Antonio Hyatt Regency on the Riverwalk.
The link for registration is TexasImmunizationConference.com.
Everyone is excited to be having the Conference in San Antonio this year, and local providers are invited to participate.
The conference will be bringing immunization partners together to share information, discuss current issues, and recommend strategies to improve immunization rates across Texas.
The conference is targeted towards private- and public-sector healthcare professionals who are interested in improving immunization rates in Texas. There will be plenaries, networking opportunities, five tracks of breakout sessions, exhibitor sessions, and a film showing.
In addition, there will be Continuing Education Credits available to ensure attendees are provided the most current and useful information on immunizations.
About The Weekly Dose
The Weekly Dose is a service of the Bexar County Medical Society.
Some of the suggestions conveyed may not be applicable to your practice today,
but the goal is to offer information over time that returns value
in excess of the cost of your membership.
If you would like to recommend future topics to share with your colleagues,
please submit them to the BCMS Executive Director at steve.fitzer@bcms.org.
All rights reserved. Unauthorized use prohibited.
Copyright © 2017 Bexar County Medical Society, San Antonio, Texas.
All rights reserved.