<![if !vml]>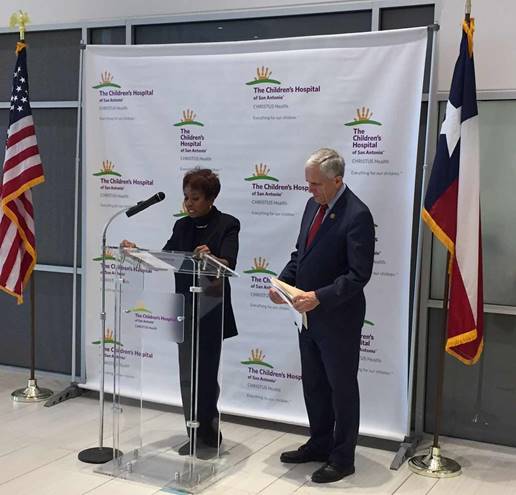 <![endif]>
U.S. Congressman Lloyd Doggett (D-San Antonio), senior Member of the House Ways & Means Committee, was joined by Diana Burns-Banks, MD and other physicians and health care providers at The Children's Hospital of San Antonio to discuss the urgent need for federal reauthorization of the Children's Health Insurance Program (CHIP) and share examples of how CHIP affects children and providers in San Antonio.
"State CHIP programs are running on empty, and they cannot be filled with empty Republican promises that, eventually, something will be done," Congressman Doggett said. "We are here today to be a voice for the voiceless—especially the estimated 26,800 Bexar County children who rely upon CHIP.
CHIP had a bipartisan beginning, we urgently need that cooperation now. Congress must not linger any longer while parents are left with only uncertainty about their child's access to a family physician."
Dr. Mark Gilger, Pediatrician-in-Chief for The Children's Hospital of San Antonio, said, "SCHIP provides peace of mind to our children and their families because it ensures all children who visit the Children's Hospital of San Antonio can readily access essential health care services."
Pediatrician & Co-Owner of South Texas Center for Pediatric Care, Dr. Dianna Burns-Banks said, "On behalf of the over 4,800 members of the Bexar County Medical Society and the over 4,000 members of the Texas Pediatric Society, physicians are urging Congress to accelerate the reauthorization of CHIP funding." Dr. Burns-Banks is also a representative of Bexar County Medical Society.
"In my practice, I see firsthand how providing access to healthcare for children is an investment in our collective future," said Dr. Rudy Morales Urby, Community Health Family Physician. "As we strive to educate our country's children, so should we ensure their health by reauthorizing CHIP—allowing them to learn, to realize their potential, and to be productive citizens one day."
"One in five kids in Texas and across the United States suffer from a diagnosable mental disorder – about 40,000 to 80,000 children and teens in Bexar County alone," said Fred Hines, President & CEO of Clarity Child Guidance Center. "What is truly disheartening, according to the American Academy of Pediatrics, only 21% of those kids will receive needed treatment. Further, we know that treatment works, and like any chronic illness, the sooner the problem is identified and treated, the more successful the outcome. CHIP has enabled hundreds of thousands of Texas kids, kids who would have been excluded, to access that early identification and treatment."
You can view Rep. Doggett's full remarks on his Facebook page here: www.Facebook.com/LloydDoggett (Rep. Doggett's remarks begin at 3:45)
And on YouTube here: https://youtu.be/heZpO1imAAk
<![if !vml]>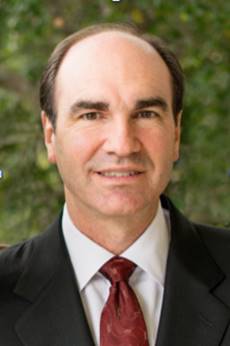 <![endif]>
Dr. Don Hilton, an adjunct associate professor of neurosurgery and director of the spine fellowship at the University of Texas Medical School at San Antonio, recently gave an address at the Vatican about the harmful effects of pornography on children.
Dr. Hilton spoke at Gregorian Pontifical University in Rome, Italy.
"The brain's reward system balances rational thinking and wanting, what Thomas Aquinas called the rational and the animal appetites. Addictive behaviors can include substances like cocaine or behaviors like viewing pornography, and youth are particularly vulnerable to the harms of pornography. Five considerations are discussed: the immaturity of the frontal judgment areas, the sensitivity of the developing reward center, cultural conditioning of youth, imprinting of the mirror neuron system in forming sexual scripts and templates, and the exposure of vulnerable and impressionable minds to the powerful supranormal stimulus of pornography. It is imperative that we effect a cultural and legal change to protect children from pornography and secure their future."
His full remarks will be published in the December issue of San Antonio Medicine magazine.
Thank you to our BCMS Circle of Friends sponsors!
This information is sent on behalf of our sponsors but it is not an endorsement.
Donations from Circle of Friends sponsors help keep down the cost of dues and allow
BCMS to continue to provide quality service to its members.
The society continues its pledge to you and only will involve itself in
services and programs that benefit you, the member, and your patients.
About The Weekly Dose
The Weekly Dose is a service of the Bexar County Medical Society.
Some of the suggestions conveyed may not be applicable to your practice today,
but the goal is to offer information over time that returns value
in excess of the cost of your membership.
If you would like to recommend future topics to share with your colleagues,
please submit them to the BCMS Executive Director at steve.fitzer@bcms.org.
All rights reserved. Unauthorized use prohibited.
Copyright © 2017 Bexar County Medical Society, San Antonio, Texas.
All rights reserved.