<![if !vml]>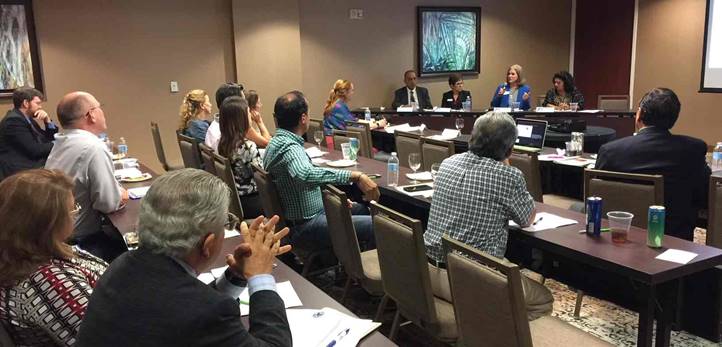 <![endif]>
For local discussion on this and other legislative advocacy topics, consider joining the BCMS Legislative and Socioeconomics Committee by contacting Mary Nava, chief government affairs officer at mary.nava@bcms.org
National Hispanic Medical Assn (NHMA) hosts
Forum in SA on Advocacy, Collaboration and Action
Last Thursday, Oct. 11, the National Hispanic Medical Association (NHMA), headquartered in Washington, DC, held its annual Southwest Regional Policy Forum at the Marriott Courtyard San Antonio Riverwalk. The theme for this year's Forum was entitled, "Advocacy, Collaboration and Action: Expanding Access to Healthcare for Vulnerable Populations in Texas."
After welcome remarks by NHMA President and CEO, Elena Rios, MD; Board Chair and President of Texas Doctors for Social Responsibility, Jaime Estrada, MD; and County Judge Nelson Wolff, the group heard from keynote speaker, George Hernandez, CEO of University Healthcare System, who presented on "Texas Without Medicaid – Why Should We Care".
A panel discussion followed with four participants from various healthcare organizations, including: Evelyn Delgado, President and Executive Director of Health Futures of Texas, who discussed "Medicaid Post-Partum Expansion"; Lisa Cleveland, PhD, RN, PNP-BC, from the UT Health School of Nursing, who discussed "Therapeutic Care of Opioid Impacted Mother-Infant Dyads"; Gilbert Gonzales, Director of the Bexar County Dept. of Behavioral and Mental Health, who discussed "Treating Mental Illness: Pay Now or Pay More Later" and Elizabeth Lutz, Executive Director of The Health Collaborative, who discussed "The Community Pathways HUB, How is the San Antonio Community Networking to Promote Wellness: What Can You Do?"
To learn more about the NHMA, click on the following link: www.nhmamd.org
.
DISEASE REPORTING - 24 HOURS A DAY, 7 DAYS A WEEK
Tuberculosis reporting - Fax: 210.207.8779 Questions? Call 210.207.8823
STD/HIV reporting - Fax: 210.207.2116 Questions? Call 210.207.8831
For all other disease reporting: Fax: 210.207.8807 Questions? Call 210.207.8876 (7 days a week & evenings)
Click here for more information.
Metro Health Epidemiology Division needs your help to protect San Antonio and Bexar County residents and visitors from disease outbreaks. The Epidemiology Division investigates confirmed and suspected cases of infectious diseases and conditions that are reported by physician's offices, hospitals and medical laboratories. Data is collected and examined to determine the existence of trends and make sure that action is taken to prevent infectious disease outbreaks in the area.
Thank you to our BCMS Circle of Friends sponsors!
Donations from Circle of Friends sponsors help keep down the cost of dues and allow
BCMS to continue to provide quality service to its members.
The society continues its pledge to you and only will involve itself in
services and programs that benefit you, the member, and your patients.
About The Weekly Dose
The Weekly Dose is a service of the Bexar County Medical Society.
Some of the suggestions conveyed may not be applicable to your practice today,
but the goal is to offer information over time that returns value
in excess of the cost of your membership.
If you would like to recommend future topics to share with your colleagues,
please submit them to the BCMS Executive Director at steve.fitzer@bcms.org.
All rights reserved. Unauthorized use prohibited.
Copyright © 2018 Bexar County Medical Society, San Antonio, Texas.
All rights reserved.