<![if !vml]>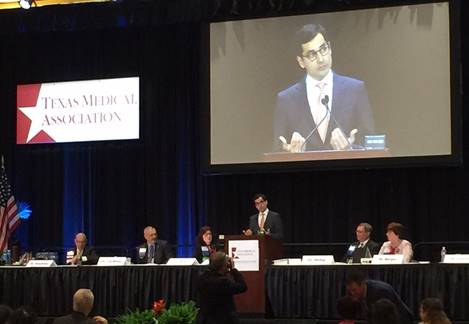 <![endif]>
BCMS gains another member in the Texas Delegation to the AMA
Congratulations to Ezequiel "Zeke" Silva, III, MD, who was elected as an alternate delegate of the Texas Delegation to the AMA during elections of the TMA's House of Delegates, held May 17-18 in conjunction with the annual meeting, TexMed at the Hilton Anatole Dallas.
A board certified, practicing radiologist with the South Texas Radiology Group, Dr. Silva is a highly experienced member of numerous AMA committees and subcommittees, including: member of the AMA Specialty Society RVS Update Committee (RUC); chair of the AMA RUC Research Subcommittee; co-chair of the AMA Digital Medicine Payment Advisory Group (DMPAG); and member of the AMA RUC Health Care Professionals Advisory Committee. Dr. Silva joins the following physicians also representing BCMS on the Texas AMA Delegation: David Henkes, MD, chair of the Texas Delegation to the AMA; Jayesh Shah, MD, Delegate; and Jennifer Rushton, MD, Alternate Delegate. Delegate and alternate delegate members in the Texas Delegation to the AMA represent TMA at AMA meetings.
A special thanks to the following members of the BCMS Delegation to TMA who were on hand throughout the weekend to conduct business in the House of Delegates meetings and elections, reference committees and Caucus Breakfast: Michael Battista, MD and Jayesh Shah, MD, chair and co-chair, respectively, of the BCMS Delegation to TMA; Brian Boies, MD, chair of the Reference Committee on Socioeconomics; Chelsea Clinton, MD; John Edwards, MD; Harold Gaskill, MD; Alice Gong, MD; Anupama Gotimukula, MD; Prabhdeep Grewal, MD – member of the TMA Credentials Committee; Sheldon Gross, MD; William Hinchey, MD; David Hnatow, MD; James Humphreys, MD; Leah Jacobson, MD – served as Chief Teller of the TMA Credentials Committee; Alex Kenton, MD; David Lam, MD, chair of the Reference Committee on Financial and Organizational Affairs; John Menchaca, MD; Jesse Moss, Jr., MD; Lubna Naeem, MD; BCMS President Adam Ratner, MD; Brent Sanderlin, DO; John Shepherd, MD; Ezequiel "Zeke" Silva, III, MD; Marc Taylor, MD; and Alexis Wiesenthal, MD.
<![if !vml]>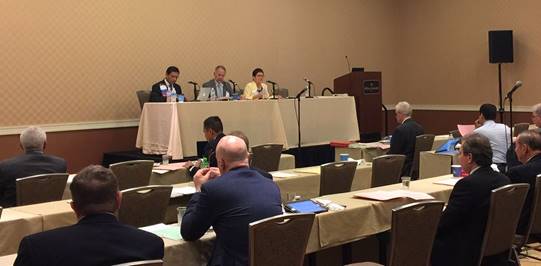 <![endif]>
For local discussion or to learn how you can become involved with the BCMS Delegation to TMA, contact Mary Nava, chief government affairs officer and delegation liaison at mary.nava@bcms.org.
The Bexar County Medical Society periodically honors chosen physicians who have given much to the medical community in the form of lifetime service to organized medicine, or have made other significant contributions to the practice of medicine. Please consider and recommend BCMS physicians whom you believe should be considered for one of these awards. Obviously, we can't give awards to everyone, but we would like to hear from you on who you think should be considered and recognized for these awards and why.
Golden Aesculapius Award – This award is BCMS' highest honor. Eligible physicians are BCMS Members who have provided a lifetime of distinguished service to the patients and the esteemed medical profession in Bexar County.
Distinguished Service Award – This award can be given to BCMS members (preferably) or non-members who have provided distinguished service to the physicians and/or patients of Bexar County or to the medical profession in general. In contrast to the Golden Aesculapius Award, this is not intended as an award for a lifetime of service, but an award for specific acts of service, accomplishments or contributions which should be recognized by a formal award.
Please send nominations to BCMS@BCMS.org.
Deadline is July 1, 2019.
<![if !vml]>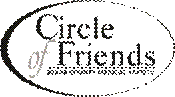 <![endif]>
Thank you to our BCMS Circle of Friends sponsors!
Donations from Circle of Friends sponsors help keep down the cost of dues and allow
BCMS to continue to provide quality service to its members.
The society continues its pledge to you and only will involve itself in
services and programs that benefit you, the member, and your patients.
About The Weekly Dose
The Weekly Dose is a service of the Bexar County Medical Society.
Some of the suggestions conveyed may not be applicable to your practice today,
but the goal is to offer information over time that returns value
in excess of the cost of your membership.
If you would like to recommend future topics to share with your colleagues,
please submit them to the BCMS Executive Director at steve.fitzer@bcms.org.
All rights reserved. Unauthorized use prohibited.
Copyright © 2018 Bexar County Medical Society, San Antonio, Texas.
All rights reserved.