86th Session First Tuesdays now complete
<![if !vml]>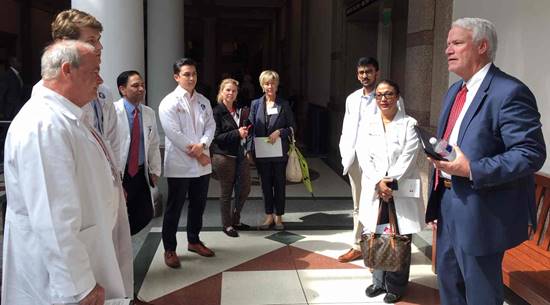 <![endif]>Many thanks to all the BCMS members, Alliance members and medical students who attended the May First Tuesdays visit to the Capitol on May 7. Attendees included: Physicians – John Green, MD, who was serving as Doctor of the Day at the Capitol; Leah Jacobson, MD; Alex Kenton, MD; Sanjiv Kumar, MD; Lubna Naeem, MD; John Nava, MD; John Shepherd, MD and Ezequiel "Zeke" Silva, MD. Alliance members in attendance, were: Carol Growney, Jennifer Lewis and Jenny Shepherd.
In addition, the following medical students from UT Health and UIW School of Medicine (UIWSOM) attended and joined the physicians and Alliance members on visits with the Bexar County legislators and their staffs. From UT Health – Jacob Canfield; Trevor Dickey; Karan Goenka; Lessly Hernandez; Sid Pradeep; Luke Verlinsky; Ryan Wealther and from UIWSOM – Marc Ghosn.
At the time of this writing, there are just 17 days left in the 140-day legislative session. Many of medicine's bills are still moving through the process and a number of topics were covered during the First Tuesdays visits, including: Medicaid, state budget; mental health; scope of practice; surprise billing; health plan directories; prior authorizations; utilization reviews; maternal health; end of life and Tobacco 21.
For local discussion on these and other legislative advocacy topics, consider joining the BCMS Legislative and Socioeconomics Committee by contacting Mary Nava, chief government affairs officer at mary.nava@bms.org.