After a brief hiatus, our sister-city medical association relationship with the Kumamoto City Medical Association is back on! Doctors and students from Kumamoto are arriving on Sunday, August 25, and departing Wednesday, August 28. Activities are being planned for Monday and Tuesday, August 26-27.
The delegation totals twenty-eight people, including physicians, students, friends and family. We request the following help from our membership:
Members to host small group dinners on the evening of the 26th.

Volunteers to provide housing for a high school or medical student Sunday, Monday and Tuesday nights (total of 6 student visitors).

Join us for the formal farewell dinner at 7 p.m. August 27 at the Menger Hotel; cost is $75 per person.
If you would like to participate with the delegation, please plan to do some visiting with them. If you are interested in either hosting a student (or two) or helping out with a small group dinner, please contact either myself (jimhumphreys308@gmail.com) or Melody Newsom (melody.newsom@bcms.org or call Melody at (210) 301-4363.
Thank you in advance,
Jim Humphreys, MD, Chair
BCMS International Committee
<![if !vml]>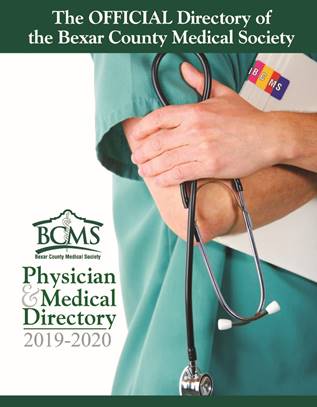 <![endif]>
The Bexar County Medical Society has prepared an online flip-book version of the popular Physician Directory that can be used by BCMS members and the public.
It can be found on the BCMS website under the Find A Doc tab or …
We hope you enjoy the ease of use and the patient referrals!
<![if !vml]>

<![endif]>
Thank you to our BCMS Circle of Friends sponsors!
Donations from Circle of Friends sponsors help keep down the cost of dues
and allow BCMS to continue to provide quality service to its members.
The Society strives to bring you services and programs that benefit you and your patients.
About The Weekly Dose
The Weekly Dose is a service of the Bexar County Medical Society.
Some of the suggestions conveyed may not be applicable to your practice today,
but the goal is to offer information over time that returns value with your membership.
All rights reserved. Unauthorized use prohibited.
Copyright © 2019 Bexar County Medical Society, San Antonio, Texas.
All rights reserved.