<![if !vml]>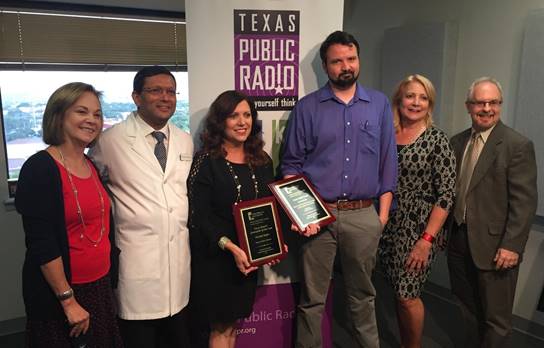 <![endif]>
The Texas Medical Association presented two Anson Jones awards for excellence in health journalism on Aug. 29 to Texas Public Radio in San Antonio.
San Antonio-based Wendy Rigby of TPR was named the Texas Health Journalist of the Year. She was recognized for her series of stories concerning the public health threat from the Zika virus.
TPR's Paul Flahive also won first place in the In-Depth Radio category for a story titled "Ease in Anti-Overdose Drug Access Leads to More Lives Saved."
Dr. Jayesh Shah, immediate past president of the Bexar County Medical Society, was on hand to make the awards presentation along with Brent Annear of TMA.
The Texas Department of Insurance, Division of Workers' Compensation (TDI-DWC) is accepting comments on an informal working draft of amended 28 Texas Administrative Code (TAC) §§ 134.500, 134.530, and 134.540, available at http://www.tdi.texas.gov/wc/rules/drafts.html. The informal working draft was posted on the TDI-DWC website on June 16, 2017 and the comment period closes on July 7, 2017, at 5 p.m., Central time.
The informal working draft is not a formal rule proposal and comments received will not be treated as formal public comments for the purposes of the Administrative Procedure Act. There will be an opportunity to formally comment once the rule is proposed and published in the Texas Register. Informal comments may be submitted by email to InformalRuleComments@tdi.texas.gov or by mail or delivery to:
Texas Department of Insurance,
Division of Workers' Compensation
Maria Jimenez
Office of General Counsel MS – 15
7551 Metro Center Drive, Suite 100
Austin, Texas 78744 – 1645
Amendments to § 134.500, concerning definitions; § 134.530, concerning requirements for use of the closed formulary for claims not subject to certified networks; and § 134.540, concerning requirements for use of the closed formulary for claims subject to certified networks, would amend the definition of closed formulary to exclude any prescription drug created through compounding, and require preauthorization for all prescription drugs created through compounding for claims subject to and not subject to certified networks. The division emphasizes that the proposed rule changes are not intended to prohibit the use of medically necessary compound medications in the workers' compensation system. Rather, they are intended to ensure that injured employees have access to all health care reasonably required by the nature of the injury as and when needed.
Interested persons are encouraged to provide comments on the proposed rule changes. The division is specifically interested in receiving comments on the proposed changes to §§ 134.500; 134.530; and 134.540, including proposed language that these rule amendments will become effective on a date certain approximately sixty days after these amendments are finally adopted to allow a transition time for stakeholders affected by the proposed rule changes. However, the division is interested in receiving any comment on the topic of preauthorization requirements for compounded medications.
<![if !vml]>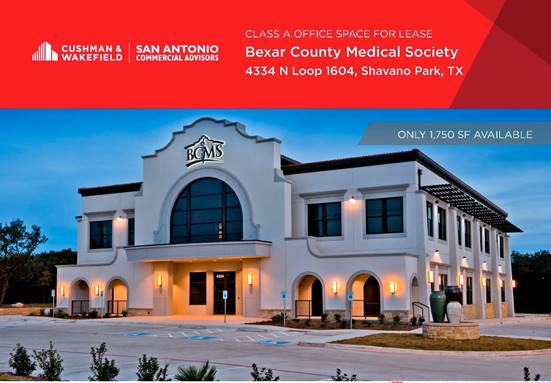 <![endif]>
One professional office suite available on the first floor: 1,749 SF.
The property has an above standard parking ratio of 5.5 spaces per 1,000 SF and Class A common area finishes.
Bexar County Medical Society occupies the entire second floor and member physicians are regular visitors to the building for society meetings.
For more information call Jon Wiegand at 210-585-4911.
<![if !vml]>

<![endif]>
The Texas Health and Human Services Commission (HHSC) is conducting regional Town Halls to discuss suggested best practices and solutions to prevent prescription drug misuse. The Town Halls will be two to three hours in length. HHSC and local community representatives will make remarks and then ask for public comments and suggestions.
San Antonio
Tuesday, July 18 - 2-5 pm
Oblate Whitley Theological Center
285 Oblate Drive
San Antonio, Texas 78216-6693
<![if !vml]>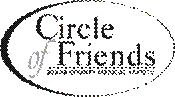 <![endif]>
Thank you to our BCMS Circle of Friends sponsors!
This information is sent on behalf of our sponsors but it is not an endorsement.
Donations from Circle of Friends sponsors help keep down the cost of dues and allow
BCMS to continue to provide quality service to its members.
The society continues its pledge to you and only will involve itself in
services and programs that benefit you, the member, and your patients.
About The Weekly Dose
The Weekly Dose is a service of the Bexar County Medical Society.
Some of the suggestions conveyed may not be applicable to your practice today,
but the goal is to offer information over time that returns value
in excess of the cost of your membership.
If you would like to recommend future topics to share with your colleagues,
please submit them to the BCMS Executive Director at steve.fitzer@bcms.org.
All rights reserved. Unauthorized use prohibited.
Copyright © 2017 Bexar County Medical Society, San Antonio, Texas.
All rights reserved.