Texas Medical Board (TMB) Sunset Bills Update
As of this writing, there are just under 20 days left in the first called special session of the 85th Texas Legislature. The TMB sunset bills, HB 1 and SB 20 have each passed their respective chamber and now await further action in each chamber. Without legislative action, the Texas Medical Board and the Medical Practice Act both will expire Sept. 1.
The Senate's TMB sunset bills — SB 20 and Senate Bill 60 by Sen. Van Taylor (R-Plano) — have both been received by the House and await committee referral. SB 60 is needed to finance the agency for the 2018-19 budget period. SB 20 extends the life of TMB and the Medical Practice Act through Sept. 1, 2019.
The House's TMB sunset bill — HB 1 by Rep. Larry Gonzales (R-Round Rock) — passed the full House last Tuesday with no opposition. Reps. Cindy Burkett (R-Sunnyvale), Richard Peña Raymond (D-Laredo), Dan Flynn (R-Van), and Senfronia Thompson (D-Houston) — all members of the Texas Sunset Advisory Commission — signed on as coauthors. The legislation has been received by the Senate where it awaits referral to committee.
The House version of the TMB funding bill — House Bill 2, also carried by Rep. Gonzales — was passed out of the House Appropriations Committee last Wednesday and approved by the full House last Friday.
For local discussion on this and other legislative advocacy topics, consider joining the BCMS Legislative and Socioeconomics Committee by contacting Mary Nava, BCMS chief government affairs officer and lobbyist, at mary.nava@bcms.org.
<![if !vml]>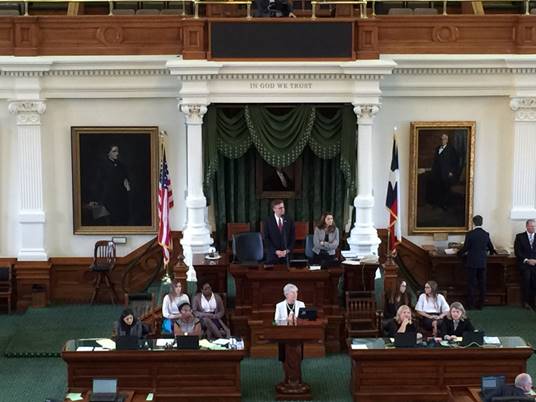 <![endif]>
Hi BCMS,
My name is Alejandra Morfin. Rose Ann Huynh and I are the community service co-chairs for the UT Health San Antonio School of Medicine AMA-TMA-BCMS Chapter. As part of our commitment to serving our San Antonio community, we are partnering with the Pediatric Interest Group at UT Health San Antonio to provide free of cost physicals for children in the Family Service Association Northside ISD Head Start programs.
We are looking for physicians who would be willing to volunteer with us for a shift from 1:30 to 4 p.m. As medical students, we can perform the physical exams and fill out the forms but must have a physician or PA/NP sign each of the Texas Step Physical forms.
The event will be held at the Head Start locations within Northside ISD. There are six different dates to choose from as we have several different Head Start locations that have requested our help. Depending on the location, the number of children we serve will vary. However, we know it will be in the range of 16-90 students. We will receive specific numbers from the schools before the events.
The dates are as follows:
August 31st
September 8th
September 15th
September 19th
September 21st
September 29th

To sign up, please click on the following link and add your name to the spreadsheet or email me at morfin@livemail.uthscsa.edu.

To Sign Up: Click here.

We look forward to working with you and feel free to contact us for any questions.
Friends and Colleagues:
As you may know, The University of the Incarnate Word School of Osteopathic Medicine (UIWSOM) welcomed our inaugural class to campus this week. It's exciting to see many of the men and women who interviewed with us this past year begin their student doctor journeys. We are already reviewing applications for the next admissions cycle and preparing to select those who will interview on campus. Identifying the students who will best represent the mission of the UIWSOM, exhibit a passion for Osteopathic medicine, understand the community we serve, and demonstrate the successful attributes of a future physician, is our most significant task at hand. I write to request your assistance.
UIWSOM will conduct 16 fall and spring interview days from September through March. Once again, we will implement the MMI format (Multiple-Mini Interview) which is designed to measure abilities including communication skills, professional and ethical decision making, empathy, cultural sensitivity, and other significant traits. The format of the interview, in which an applicant interacts with nine interviewers, requires a significant number of participants including UIWSOM faculty, administrators, UIW main campus representatives, and representatives of the San Antonio healthcare community. This is a formal request for your participation in this year's multiple-mini interviews (MMI). We hope your schedule allows you to participate in as many dates as possible. This year's interviews will be held Friday afternoon (1:30-3:45 p.m.) and Saturday morning (7:45 -10 a.m.). Each interview day will involve a commitment of a little over two hours only. Because of the addition of new buildings, we will be able to conduct simultaneous MMI circuits in multiple locations. Training will be provided online and prior to each individual interview day for both new and returning interviewers. Our hope is to interview approximately 700 qualified students during the admissions cycle. With your assistance, we know we can reach this goal!
Please complete the attached form and include the dates you are available to Celia Velez, Enrollment Specialist, at cavelez1@uiwtx.edu no later than August 19th. Because we are in need of additional interviewers, we ask that you consider recommending colleagues who may be interested in assisting as well.
2017-2018 Candidate Interview Dates:
September 8 and 9
September 22 and 23
October 20 and 21
November 17 and 18
December 8 and 9
January 19 and 20
February 16 and 17
March 23 and 24
We are grateful to all who participated in UIWSOM 2016- 2017 interview days. As a result of your work and support, the inaugural class has been filled with learners who we believe will have a positive impact on our community in the years to come!
Regards,
Andrea Cyterski-Acosta
Associate Dean of Admissions
University of the Incarnate Word
School of Osteopathic Medicine
<![if !vml]>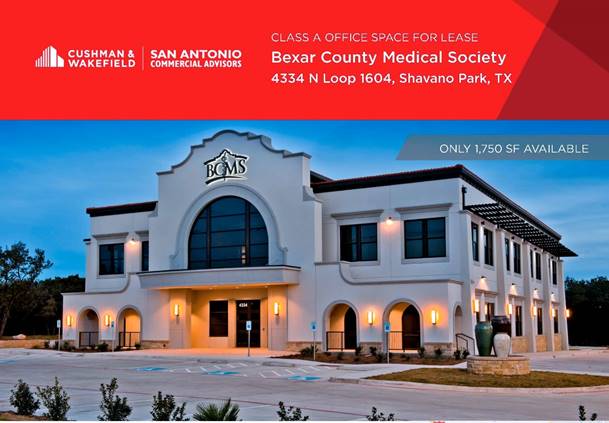 <![endif]>
One professional office suite available on the first floor with 1,749 square feet of rentable space.
The property has an above standard parking ratio of 5.5 spaces per 1,000 SF and Class A common area finishes.
Bexar County Medical Society occupies the entire second floor and member physicians are regular visitors to the building for society meetings.
For more information call Jon Wiegand at 210-585-4911.
Thank you to our BCMS Circle of Friends sponsors!
This information is sent on behalf of our sponsors but it is not an endorsement.
Donations from Circle of Friends sponsors help keep down the cost of dues and allow
BCMS to continue to provide quality service to its members.
The society continues its pledge to you and only will involve itself in
services and programs that benefit you, the member, and your patients.
About The Weekly Dose
The Weekly Dose is a service of the Bexar County Medical Society.
Some of the suggestions conveyed may not be applicable to your practice today,
but the goal is to offer information over time that returns value
in excess of the cost of your membership.
If you would like to recommend future topics to share with your colleagues,
please submit them to the BCMS Executive Director at steve.fitzer@bcms.org.
All rights reserved. Unauthorized use prohibited.
Copyright © 2017 Bexar County Medical Society, San Antonio, Texas.
All rights reserved.