BCMS Delegation to TMA wraps up House of Delegates business during TexMed 2017
by Mary E. Nava, MBA, BCMS Chief Government Affairs Officer and Delegation Liaison
TexMed 2017, TMA's annual meeting, convened May 5-6 in Houston at the beautiful Marriott Marquis Hotel. Leading up to the meeting, the BCMS Delegation to the TMA prepared, reviewed and approved resolutions to be considered by the TMA House of Delegates. In addition, the group put forth two physicians who were on the election ballot for seats on the TMA Board of Trustees and the Texas Delegation to the AMA -- John Holcomb, MD and Jennifer Rushton, MD, respectively. Dr. Rushton won election as an alternate delegate to Texas Delegation to the AMA, in which both David Henkes MD and Jayesh Shah, MD were reelected to their delegate posts, with Dr. Henkes continuing as Chair of the Delegation to AMA. Also, immediately following the conclusion of the business of the House of Delegates, the TMA Board of Trustees convened and Dr. Henkes was named Chairman of the Board of Trustees.
In a special presentation during the Caucus meeting of the BCMS Delegation to TMA, BCMS President Leah Jacobson, MD and BCMS Delegation to TMA Chair, Jayesh Shah, MD, presented Dr. Holcomb with the TMA Star Award for his 15+ years of service as Chair of the TMA Select Committee on Medicaid, CHIP and the Uninsured. Additionally, the BCMS Delegation to TMA submitted a resolution honoring Dr. Holcomb for his years of service on the Committee, which was recommended for adoption by the TMA Reference Committee on Financial and Organizational Affairs and was subsequently adopted by the full body of the House of Delegates.
Many thanks to the members of the BCMS Delegation to TMA who served as delegates during the two-day business meetings, represented BCMS in reference committee meetings and participated in the elections for office during the House of Delegates proceedings: George Atiee, MD; Chelsea Clinton, MD; Suresh Dutta, MD; John Edwards, MD; Harold Gaskill, MD; Alice Gong, MD; Donald Gordon, MD, PhD; Sheldon Gross, MD; David Henkes, MD; John Hinchey, MD; David Hnatow, MD; John Holcomb, MD; James Humphreys, MD; Leah Jacobson, MD; Relief Jones, III, MD; Wendy Kang, MD, JD; Margaret Kelley, MD; Alex Kenton, MD; Malathi Koli, MD; Vijay Koli, MD; Ashok Kumar, MD; John Lacci, medical student; David Lam, MD; W. Cannon Lewis, MD; John Menchaca, MD; Darlene Metter, MD; Jesse Moss, Jr., MD; John Nava, MD; Jennifer Nordhauser, medical student; Rajam Ramamurthy, MD; Jennifer Rushton, MD; Navid Saigal, MD; Jayesh Shah, MD; David Shulman, MD; J. Marvin Smith, III, MD; Bernard Swift, Jr., DO; Lloyd Van Winkle, MD; and David Webster, MD.
Stay tuned to this column for updates on the final results of the 2017 business of the TMA House of Delegates.
For more information on how you can become a member of the BCMS Delegation to TMA, contact Mary Nava at mary.nava@bcms.org.

<![if !vml]>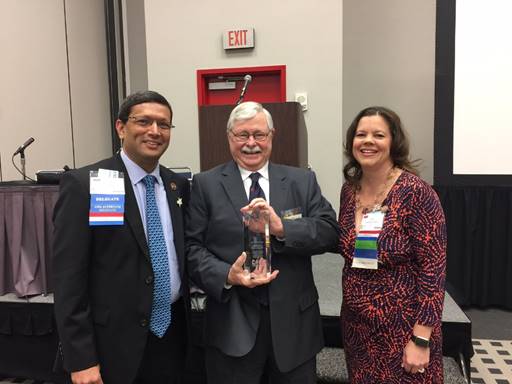 <![endif]>
John Holcomb, MD, TMA award recipient for his over 15 years of service on the TMA Select Committee on Medicaid, CHIP and the Uninsured (center) is joined by Jayesh Shah, MD, Delegation Chair and Leah Jacobson, MD, BCMS President on May 6 during the Caucus meeting of the BCMS delegation to TMA.
Preauthorization Denial: What's Your Recourse?
So a health plan has denied your preauthorization request for a patient's treatment.
What options do you have?
First determine the patient's type of coverage.
Medicare Advantage plans have specific appeal guidelines, which you can find on the Centers for Medicare & Medicaid Services website. Be sure to check out the appeals flowchart.
Commercial health plans also post specific appeal guidelines on their websites, typically as part of their provider manual. Before providing a service, you should always check to see if the health plan has a notification and/or precertification requirement. Finding out in advance about the coverage and benefits available for a service is advantageous for both you and your patients. Some services may require notification only, while for others, health plans may require you to submit medical records for review before they determine if the services meet plan guidelines for medical necessity.
In 2013, as a result of hard work by TMA, the Texas Legislature passed bills to develop and require health plans to accept a standardized prior authorization form for both medical services and prescription drug benefits. Read details about the forms in this Texas Medicine article. Both forms are available for download on the Texas Department of Insurance (TDI) website, along with links to the Texas Administrative Code (TAC) rules that address the use of these forms.
The code also addresses preauthorization for HMOs and preferred provider benefit plans. They must adhere to specific time frames when responding to preauthorization requests from physicians and providers. Finally, the code specifies written procedures for appeal of adverse determinations when a request for preauthorization is denied. (All these rules are in 28 TAC, Chapter 19.)
In 1997, the Texas Legislature made Texas the first state to require a system of independent review of insurer decisions by reviewers who do not work for the insurance company or HMO. Use of the Independent Review Organization (IRO) process usually is permitted only after patients have completed the insurer's internal appeals process.
If you believe a health plan is not complying with any one of these requirements, you may file a complaint with TDI. Patients may also file complaints regarding their health plan and should be encouraged to do so. Step-by-step guidance through the insurance complaint process is on the TDI website.
When you have questions about billing or payer policies, contact TMA's reimbursement specialists for help at paymentadvocacy@texmed.org, or call the TMA Knowledge Center at (800) 880-7955. TMA members can use the TMA Hassle Factor Log to help resolve insurance-related problems. Visit www.texmed.org/GetPaid for more resources and information.