As you know, Hurricane Harvey wreaked havoc and caused serious devastation across Texas. BCMS, through its Emergency Preparedness Committee, is charged with providing medical services for relief shelters that are setup in San Antonio.
Thank you to all of our wonderful members that have volunteered to work at the evacuee shelters. At this time, we are not seeking additional volunteers. (Subject to change!) If you volunteered and have not been called to work, please be patient. We are diligently working through the list. As of now, San Antonio has one mega-shelter open and another is ready to open if needed.
The outpouring of medical response from San Antonio and Bexar County is something we are all very proud of! Thank you again.
To find out what more you can do to help click here.
<![if !vml]>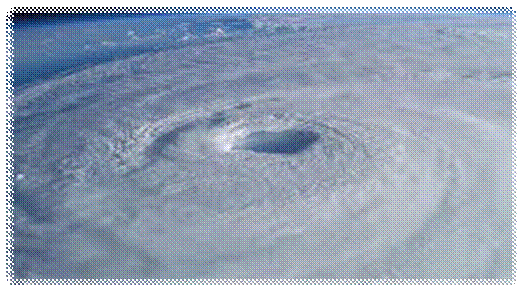 <![endif]>
<![if !vml]>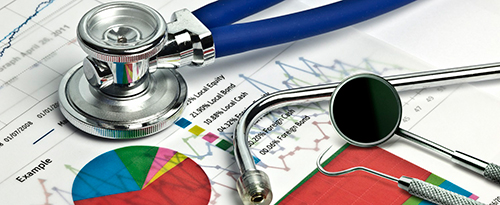 <![endif]>
Buying or Selling a Medical Practice
A Seminar Presented by Mike Kreager, Esq.
of Kreager Mitchell, PLLC
Saturday, September 9, 2017
Click Here to RSVP
Bexar County Medical Society Building
4334 N. Loop 1604 West, San Antonio
9 a.m. – 11:30 a.m.
No purchase or sale of a medical practice is exactly like another. Your purchase or sale of your practice will be unique to you. But the process itself, though daunting, follows a predictable path.
It all starts with valuation – how much is the practice worth? – and proceeds through structuring the purchase or sale and negotiations to document the transaction and sign the contract. In this session, attorney Mike Kreager will use a model case to examine each stage.
Michael Kreager has practiced business and tax law in Texas for 38 years. Mike founded Kreager Mitchell, PLLC over 20 years ago to address the unique business, corporate, tax and regulatory legal needs of physician and physician practices. Mike authored Employment Contracts for Physicians: The Comprehensive Guide, Second Edition, and "What's My Practice Worth? A Comprehensive Guide to Practice Valuations and Sales" both of which are published and sold by the TMA. His extensive article on physician covenants not to compete, "The Physician's Right in §15.50(B) to Buy Out a Covenant Not to Compete" is read by physicians, attorneys and judges as the definitive work on the subject. It is available online and was published in the Baylor Law Review, volume 61, page 357 (2009).
Admission is FREE to BCMS Members
The Bexar County Medical Society will sponsor a Writing Workshop on Sept. 23 from 8:30 a.m. to 12:30 p.m. at the new BCMS Building at 4334 N. Loop 1604 W.
It will be conducted by Gemini Ink and is open to all physicians
and members of the BCMS Alliance as well as a limited number of medical students.
There will be a $30 registration fee per person.
Breakfast and a light lunch will be served.
Supporting sponsors for the event are Dr. Dale Wood and
San Antonio Medicine Publisher Louis Doucette.
Following is a brief description of the event:
Breathing Life Into Stories: A Prose Workshop
Few experience the human story quite the way physicians do, for they see us at our most vulnerable and our most valiant. This interactive workshop will explore the stories each of us has to tell, from both a medical and/or human perspective, and present techniques for crafting vivid, compelling prose that leaps off the page.
<![if !vml]>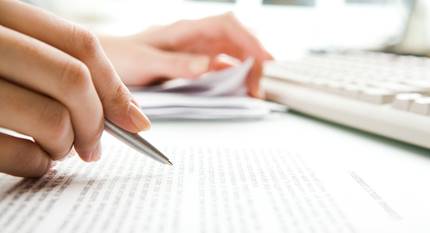 <![endif]>
To register please call 210-301-4388.
<![if !vml]>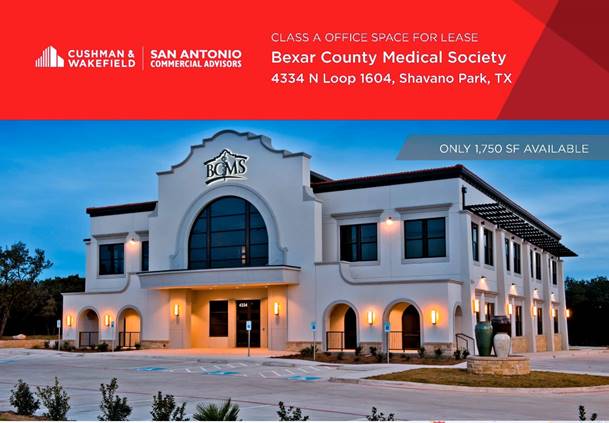 <![endif]>
One professional office suite available on the first floor with 1,749 square feet of rentable space.
The property has an above standard parking ratio of 5.5 spaces per 1,000 SF and Class A common area finishes.
Bexar County Medical Society occupies the entire second floor and member physicians are regular visitors to the building for society meetings.
For more information call
Jon Wiegand at 210-585-4911
Thank you to our BCMS Circle of Friends sponsors!
This information is sent on behalf of our sponsors but it is not an endorsement.
Donations from Circle of Friends sponsors help keep down the cost of dues and allow
BCMS to continue to provide quality service to its members.
The society continues its pledge to you and only will involve itself in
services and programs that benefit you, the member, and your patients.
About The Weekly Dose
The Weekly Dose is a service of the Bexar County Medical Society.
Some of the suggestions conveyed may not be applicable to your practice today,
but the goal is to offer information over time that returns value
in excess of the cost of your membership.
If you would like to recommend future topics to share with your colleagues,
please submit them to the BCMS Executive Director at steve.fitzer@bcms.org.
All rights reserved. Unauthorized use prohibited.
Copyright © 2017 Bexar County Medical Society, San Antonio, Texas.
All rights reserved.